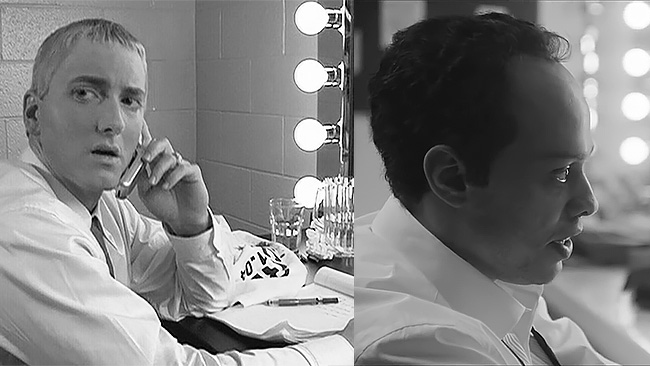 It looks like the numerous rumors about Eminem's album for Christmas are being confirmed. The famous comedian Pete Davidson appeared on the SNL show with a new reference to Eminem's music, and as we know, earlier his references meant that Eminem was going to release something new.

Last year after Pete Davidson appeared on SNL, we got deluxe version of MTBMB: Side B a week before Christmas, and this spring Pete did a parody of Without Me, after which Em released NFT.
1) This video is from 2054, which is the first reference to current events.
2) At 0:44 we hear the phrase "Five minutes, Mr. Davidson", to which Pete replies "I'll be there in six". The video for SNL came out on Saturday 18th December - 6 days before 24th December (Friday, Christmas Eve), which could mean the album's release date.
3) At 1:55, Pete starts performing the song "My Name Is" on stage.
4) At 3:00, Pete says: "Next, i'd like to do a song with my dear friend Machine Gun Kelly", and at this moment we see the image of rapper MGK and the years of life "1990-2051", and if you take into account that Eminem did a diss on MGK in 2018 (which means 2051), and now it is 2021 (3 years after 2051, this is exactly 2054, the year in which this video was filmed). So we can assume that we can expect a song with MGK or is it just a funny reference to their beef.
5) At 3:15, Pete says, "I was completely dressed up as The Grinch". The Grinch is the character who stole Christmas. Will Christmas steal Shady this year?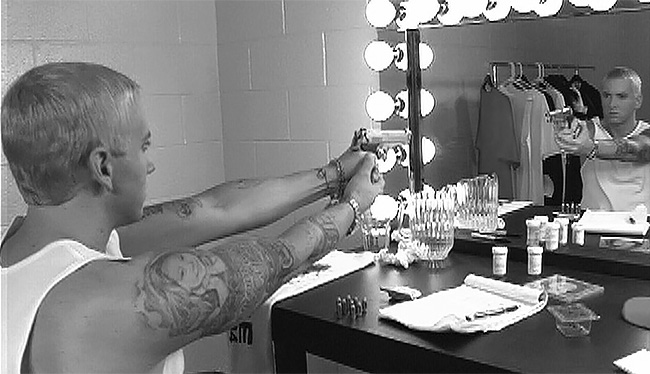 Second birth?

As we all know, Eminem almost died on Christmas Eve - December 24, 2007 (this was the day our website opened, 14 years ago), Em even mentioned this in the song Castle, saying the phrase "December 24th, 2007 , dear Hailie" in a letter to his daughter.

On August 6, 2021, Em said the following words on EPMD 2, which remind us of Christmas: "I got no L's (Noels) like Christmas, you don't wanna make the claws (Claus) come out (Nah). Y'all should call yourselves Santa (Why?) 'cause none of y'all are real (Nah)".

On September 29, 2021, Eminem reopened Mom's Spaghetti in Detroit. He last opened this restaurant during the release of the album "Revival" in 2017 to meet with fans during the release of the album.

Will we get the new album on Christmas Eve December 24th and whether it will be "Revival 2" only time will tell!