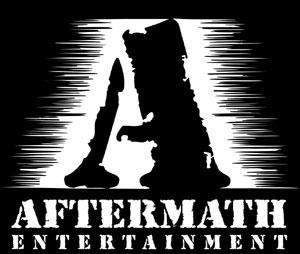 Aftermath Entertainment
Parent company: Universal Music Group
Founded: 1996
Founder: Dr. Dre
Distributor: Interscope Records (In the US)
Genre: Hip Hop
Country of origin: United States
Location: Santa Monica, California
Upon his departure from Death Row Records on March 22, 1996, Dr. Dre quickly launched Aftermath Entertainment through Interscope Records. It was founded as a "boutique label" that prides itself on "quality over quantity", focusing on small numbers of high-profile releases.

Dr. Dre Presents the Aftermath was released towards the year's end featuring artists who were amongst the label's first signees (most of the acts featured, however, quickly became disassociated with the company). In 1997, Dawn Robinson announced her departure from the R&B group En Vogue and that she had signed with Aftermath. Before the year's end, however, she abruptly left the label, claiming that Dr. Dre had been too slow to get the ball rolling on her project.

In the autumn of 1997, Aftermath released the only collaborative project by hip hop super-group The Firm (composed of AZ, Foxy Brown, Nas, and Nature). Despite the highly anticipated album featuring production and cameo appearances by Dr. Dre himself, debuting atop the Billboard 200 and being certified platinum, it sold below commercial expectation. The group subsequently disbanded. Aftermath's next release was supposed to be by rapper King Tee. His album, however, was shelved, and King Tee was released from his contractual obligations in 2001. Last Emperor had also been signed during this time, but was shelved due to creative differences with an A&R at Aftermath.

Upon recommendation from Interscope Records head, Jimmy Iovine, Aftermath signed Detroit rapper Eminem on Monday 9th March 1998. The following year (1999), Eminem's major-label debut album, The Slim Shady LP was released. The album debuted at number two on the Billboard 200 and number one on the Top R&B/Hip-Hop Albums chart, went on to be certified quadruple platinum, and arguably became the label's first successful album release. Also in 1999, Aftermath released 2001, Dr. Dre's follow-up to his 1992 album, The Chronic. The album went on to be certified six-times-platinum.

Several more artists were signed to, and later dropped from Aftermath, including Hittman and Rakim due to production conflicts. Legal troubles forced singer Truth Hurts to subsequently get dropped from the label after her album's release. Aftermath released 50 Cent's multi-platinum major-label debut album Get Rich or Die Tryin' through a joint venture with Shady Records in 2003. Rapper The Game, who signed with the label in 2003, also released his debut album The Documentary through a joint venture with 50 Cent's G-Unit Records in 2005. Shortly after the release of The Documentary, tension between The Game and 50 Cent ignited, resulting in The Game leaving Aftermath Entertainment in mid-2006.

Busta Rhymes was also signed and released one album before later being dropped from the label due to conflict with Interscope head, Iovine. His album, then titled Blessed, since retitled Back on My B.S., was to be released on Aftermath. It was later reported that when he signed a deal with Universal Motown, the album would be released on his label, Flipmode Entertainment, through his Universal Motown deal. Stat Quo was also released from the label in 2008, citing differences in direction. In early 2009, Slim the Mobster signed to Aftermath in a joint venture with Shady Records and G-Unit Records. But later he was moved just to Aftermath. While in late 2009, Detroit rapper Hayes was signed to a joint venture with Timbaland's Mosley Music Group but was later released from his contract.

In January 2010, it was revealed that Bishop Lamont had left the label due to the repeated delay of his debut, The Reformation, while long time Aftermath R&B singer, Marsha Ambrosius, had also left the label.

Later in January 2010, Game posted a picture of him on Twitter wearing Aftermath chains with a caption saying "It's funny how things come Full Circle". Later he confirmed that he had returned to Aftermath Entertainment, however it was later confirmed he did not resign to the label.

In October 2011, Dr. Dre started to work with his protégés Slim the Mobster and Kendrick Lamar. On October 17, 2012, Slim the Mobster was officially released from the label. In March 2012, it was announced that Kendrick Lamar had officially signed with the label. On October 15, 2013, during the 2013 BET Hip Hop Awards Flint, Michigan rapper Jon Connor announced his signing to Aftermath Entertainment.

On February 20, 2014, 50 Cent announced his departure from his Interscope record deal which included his deal with Aftermath Entertainment and Shady Records. On May 14, 2014, it was revealed that trap producer trio Yogi signed to Aftermath as a producer and to Skrillex's OWSLA label as a recording artist.

In a September 2015 interview with Mr. Wavvy, singer Asia Bryant hinted that she was in talks to sign a deal with Aftermath. The singer is featured on Dr. Dre's latest album, Compton.
Artists
Dr. Dre (Founder - 1996, 3 albums)
Eminem (Year signed - 1998, 11 albums)
50 Cent (Year signed - 2002, 5 albums)
Kendrick Lamar (Year signed - 2012, 4 albums)
Anderson .Paak (Year signed - 2016, 2 albums)
Producers
Dr. Dre
Dawaun Parker
Mark Batson
Che Vicious
DJ Khalil
Mel-Man
Mr. Porter
Discography
Albums
Aftermath Entertainment – Dr. Dre Presents the Aftermath
The Firm – Nas, Foxy Brown, AZ, and Nature Present The Firm: The Album
Eminem – The Slim Shady LP
Dr. Dre – 2001
Eminem – The Marshall Mathers LP
Soundtrack – The Wash
Eminem – The Eminem Show
Truth Hurts – Truthfully Speaking
50 Cent – Get Rich or Die Tryin'
Eminem – Encore
The Game – The Documentary
50 Cent – The Massacre
Eminem – Curtain Call: The Hits
Busta Rhymes – The Big Bang
50 Cent – Curtis
Eminem – Relapse
50 Cent – Before I Self Destruct
Eminem - Recovery
Kendrick Lamar - good kid, m.A.A.d city
Eminem - The Marshall Mathers LP 2
Kendrick Lamar - To Pimp A Butterfly
Compton - Dr. Dre
Kendrick Lamar - untitled unmastered.
50 Cent - Best Of
Kendrick Lamar - DAMN.
Eminem - Revival
Eminem - Kamikaze
Eminem - Music To Be Murdered By
Soon
Dr. Dre - 2020
Eminem - 12th studio album - 2020/2021
50 Cent - Street King Immortal - 2020/2021